— Reporting
A single, centralised home for all your loyalty rewards and customer reporting.
Request demo
Dashboard

Campaigns

Coupons

Customers

Reports

Stores

Reports | Monthly Store Totals

Store
New

Customers

Points
Visits
Redeems
Points Redeemed

La Penderie

Cuba Street
8
950
190
22
320

La Penderie

Lampton Quay
11
1,060
212
18
450

La Penderie

Lorne Street
8
995
199
20
325

La Penderie

New Regent Street
8
700
140
25
340

La Penderie

Newmarket
7
660
132
40
600

La Penderie

Ponsonby
12
1,075
215
19
250
Our loyalty and marketing software provides real-time reporting, sent live and in-store from the tablet device.
Loyalty combined with marketing automation ensures a personalised, rewarding message that customers actually want.
Visitor history and redemption
We provide real-time information on visitor history, redemption and dollars spent. Enabling you to measure the effectiveneess of your loyalty program.
Campaign reporting
In real time, your customer NPS scores and feedback are populated into the Goody software. You can access this any time and remedy any negative experiences your customers may have.
Store or client level tracking
Track the progress of your loyalty and marketing efforts at a client level or drill down to the individual store.
Demographics & behaviours
Gain a deeper understanding about your customers with insight on visitor history and customer segments.
February Customer Activity
January Customer Activity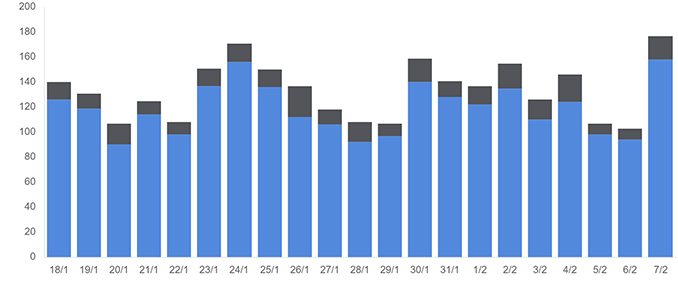 Enterprise Reporting
If you're after enterprise level functionality, we have pre-built reports for your expiring points, restricted liability, historic points issued and many more. Ask us about your enterprise reporting requirements.
Get started today!
Whether you're looking to reward your regulars or automate your loyalty marketing, Goody can help.
Request demo